Recently over at the
BBQ Brethren
, someone asked the best way to smoke chicken wings. Whilst a number of people commented, one person jumped in and said they smoke their wings and then dump them in Alabama White Sauce. No, that's not a euphemism. So, what is Alabama White Sauce ?
"Itís the only sauce we know here, because itís what everyone grows up on," says world barbecue champion Chris Lilly of
Big Bob Gibson Bar-B-Q
in Decatur, Alabama. I totally respect Chris Lilly and I'm a fan of BBG's rubs (see my earlier cooks), so I had to find out what's in it.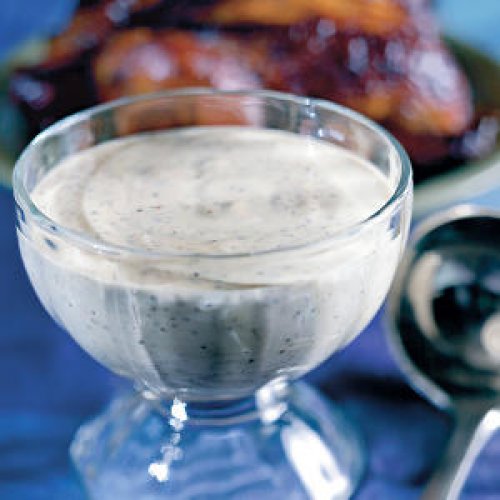 Here's one recipe from
myrecipes.com
:-
1 1/2 cups mayonnaise
1/4 cup water
1/4 cup white wine vinegar
1 tablespoon coarsely ground pepper
1 tablespoon Creole mustard
1 teaspoon salt
1 teaspoon sugar
2 garlic cloves, minced
2 teaspoons prepared horseradish
Whisk together all ingredients until blended. Store in the refrigerator up to 1 week.